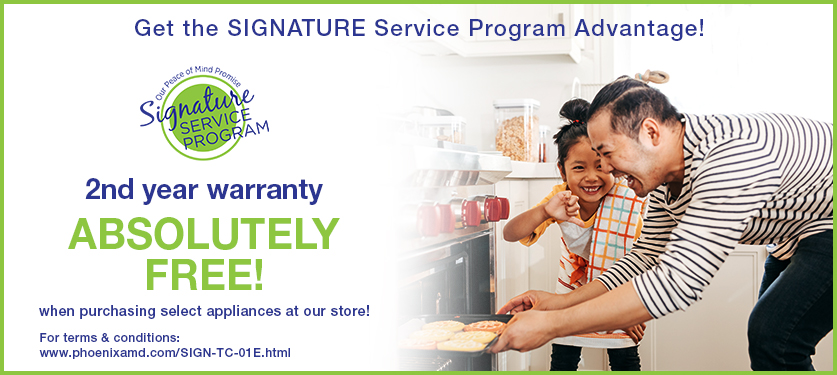 Our Exclusive SIGNATURE SERVICE PLAN ADVANTAGE!
Appliances today are designed not only to make your life easier but to give you back time in your already busy schedule. And with our exclusive SIGNATURE SERVICE Plan, not only can we enhance your in-home experience with the right appliance at the right price, but we can offer you greater Peace of Mind than ever before at no added cost to you! Most appliances today come with just a one-year manufacturer's warranty. But when you shop with us, we GIVE YOU the 2nd year FOR FREE on a wide range of our most popular appliances.
The SIGNATURE Service Plan is exclusively available on all WHIRLPOOL and ELECTROLUX brands including Maytag, KitchenAid, Frigidaire, Frigidaire Gallery, and Frigidaire Pro and gives our customers peace of mind for 2 full years from date of delivery including:
Parts and labour coverage against product failure
In-home service for major appliances
Service provided by professional authorized technicians
No deductible to pay
Three easy ways to make a service claim in the second year
Service provided by bilingual service specialists
If there is a change in your plans, the SIGNATURE service plan is easily Transferable!
And for up to 5 FULL years peace of mind, you can complement our 2 Year SIGNATURE Service plan by adding one of our affordable Extended In Home Service plans.
Click the link for full details on how to take advantage of our exclusive SIGNATURE SERVICE PLAN.